Search, find
& connect
with your inmate.
We provide you a simple, affordable way to stay in touch with your inmate from any phone, tablet, or computer.
or already have an account?
Join our growing community of
family & friends
We've built our reputation by helping families stay in touch during the most difficult times in their lives. With subscribers in over 88 countries, we've become the largest independent provider of inmate services.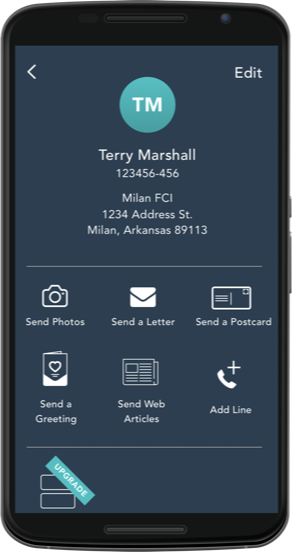 We save you time and money
Talk as much as you want for a fraction of the cost. Send photos, postcards and more right from your phone, you can even share online information with just a few clicks. We take all the headaches out of staying in touch with your inmate, making communication easy and affordable.
Send Photos
Photos are worth a thousand words.
Talk Time
Talk should be cheap.
Send Postcards
A postcard that does more.
Send Letters
A fast way to send a message.
Send Greeting Cards
A card for every occasion.
Share Information
Bring the internet to them.
Simple, Pay-As-You Go Pricing
Choose 2
$7.99 /month
Choose any 2 Pigeonly services for one low monthly price.
Choose 4
$14.99 /month
Choose any 4 Pigeonly services for one low monthly price.
All Access
$19.99 /month
Get all Pigeonly services.
One low monthly price.